Night Clubs in AZ= Want to know where to go in Scottsdale Az for fun and entertainment, night out on the town, well you just found it. We list all the nightclubs, bars, casions, hotels/resorts, restaurants and more for you to select what you wantat our Calendar is where to find the nightclub events to see what nightclub has what to offer. Scottsdale Night Beat .com
Tuesday, December 01, 2009
Wednesday, November 18, 2009
"Miss Sexy Clauz" 2009 @Angels & Outlaws 12/04/09
ANGELS & OUTLAWS has obligated/ allocated $500.00 Cash for this event and is Sponsored by Amarone Restaurant AZ
ALL Ladies, ALL ages (21up) may enter this event, the choice is yours?
1. Dresses
2. Slacks and tops
3. Santa costumes
4. Dance outfits
5. Bikini's
6. Body Paint
REGISTRATION STARTS @ 9:00PM
PRE-REGISTER: Email: contestant@icehotmodels.com
Frankie Dee 623 332-7694
ICE1.LLC will orchestrate this event on Dec 04, 09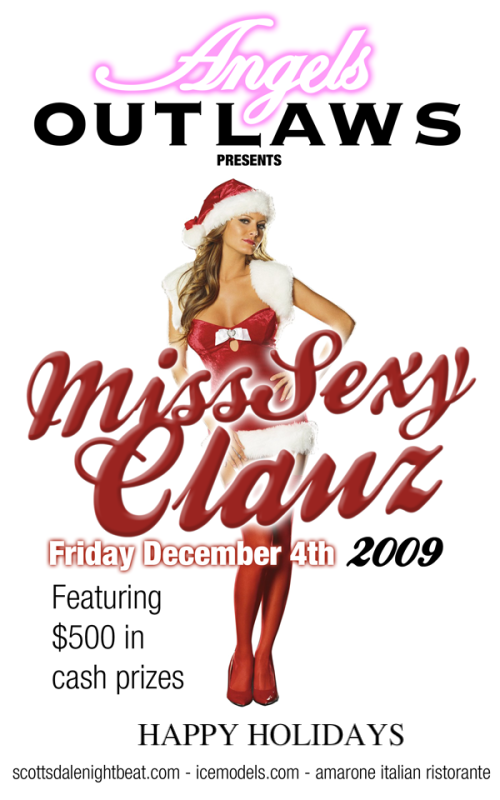 Posted by

Frank D.
at 12:09 AM
No comments:
Links to this post


Monday, November 02, 2009
info@scottsdalenightbeat.com
http://widget-bc.slide.com/widgets/slideticker.swf" type="application/x-shockwave-flash" quality="high" scale="noscale" salign="l" wmode="transparent" flashvars="cy=lt&il=1&channel=288230376172525244&site=widget-bc.slide.com" style="width:426px;height:320px" name="flashticker" align="middle">
Posted by

Frank D.
at 10:48 AM
No comments:
Links to this post